FASCINATING TIMES - New Mal Fletcher Book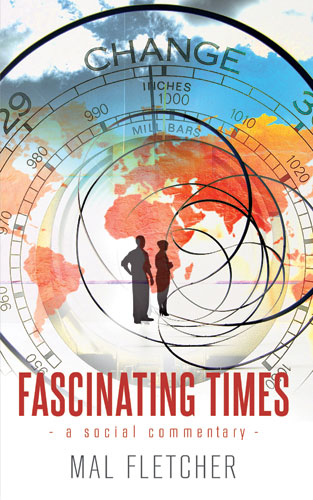 FASCINATING TIMES
A Social Commentary

NEW BOOK
by Mal Fletcher

CLICK HERE to purchase the book via Amazon Kindle.


Dear Friend,
"Being born in interesting times isn't necessarily a comfortable thing; it can just as easily inspire exhaustion as exhilaration…."
These are among the first words from my new book
FASCINATING TIMES: A Social Commentary.
The book will be launched on the Amazon Kindle platform on November 30. (You don't have to own a Kindle or other e-reader to read the book: click here for FREE software for almost any digital device.)
I'm very pleased and excited about the way the book has turned out. Given your interest in future change and the big challenges and opportunities facing societies today, I think it may be of interest to you too!
Here's a short section from the book's introduction:
Pull out your dictionary and you'll see that there are two shades of meaning when it comes to the word 'fascination'. As expected, one of them has to do with inspiring inquisitiveness; the other, however, is about provoking fear. When a rabbit is caught in the headlights of a moving car and paralysed by shock or terror - or both - it can be said to be 'fascinated'.
Giving careful consideration to the major issues we face - in government, business, the economy, communities, families and society as a whole - can either motivate us to greater levels of achievement or leave us feeling perplexed…
Social commentary can help us to process individual issues by locating them within a wider narrative. It can also, on occasion, make complex issues seem more manageable and less confusing, by reducing them to their constituent parts. At its best, social commentary allows us, individually and collectively, to reflect upon and recalibrate aspects of our worldview.
The essays and articles featured in this anthology cover a wide range of subjects and issues, among them: technology, social networking, robotics, assisted dying, youth violence and gangs, the marriage debate, middle-age crises, suicide, ageism and many more… As you read these pieces, you will doubtless disagree with my analysis from time to time. If so, I hope that you do so passionately and with conviction (while keeping an open mind)...
Be one of the first people to visit 2020plus.net/ft/ and read a few of the endorsements we've received for the book.
CLICK HERE to purchase the book via Amazon Kindle.
Click here for the Movie-style Trailer and the extended Fascinating Times radio interview.

Mal Fletcher
London
November, 2012